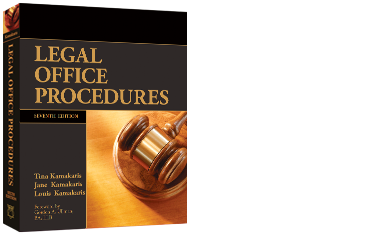 Title: Legal Office Procedures, 7th Edition, 2017.
ISBN: 978-1-896512-56-3.
Author: Tina Kamakaris, Jane Kamakaris, Louis Kamakaris
With a Foreword by Gordon A. Ullman, of the Ontario Bar.
Classification: Textbook for law clerks, paralegals, legal assistants; law office reference manual.
Price: Please contact our distributors: Emond Publishing, Toronto. 1-888-837-0815
Tina Kamakaris combines her extensive experience as a college professor with her legal office knowledge to create this high-quality Legal Office Procedures text that is respected throughout professional and educational communities.  With Jane Kamakaris and Louis Kamakaris being graduates from law clerk and legal office programs and enjoying successful careers in the legal field, the text provides a firsthand eyewitness account of the legal office environment and the skills and professionalism that legal students require for a successful legal career.  The text takes students step-by-step through start-to-finish legal files and also outlines the rationale, background, and substantive law behind these procedures, giving students a true glimpse inside a busy and dynamic legal office environment.  Designed for Canadian college-level law clerk, paralegal, and legal office programs, the text uses a writing style that is concise, easy to follow, and ideal for students new to the subject.  By incorporating the most widely practised areas of law into a single volume, this highly respected text covers the entire legal curriculum and also serves as a handy legal reference manual, carrying students from their legal classroom, to their legal field placement, to their legal workplace.  Students can also purchase the Legal Office Procedures Workbook that includes hands-on start-to-finish legal files and assignments, including interfacing files and legal templates, aligned with each chapter in the main text.
Areas of law include:
Practice Management
Civil and Criminal Litigation
Family Law
Corporate and Commercial Law
Real Estate
Estates
Features:
The hallmarks and mainstays that Legal Office Procedures has originated and is renowned for include:
Start-to-finish legal files with ongoing full life cycle scenarios, to Aristotle's, "The whole is greater than the sum of its parts."  Like a big puzzle that is difficult to put all the pieces together without seeing the overall big picture on the front cover, the start-to-finish files of Legal Office Procedures allow students to see the big picture and to understand the relevance and significance of each procedural part.  This holistic method of learning eliminates mechanical performance and provides a good level of independence in the legal workplace by enabling students to anticipate and act with initiative on the next procedural step.
Concise, comprehensive coverage of the most commonly practised areas of law — practice management, civil litigation, criminal litigation, family, corporate and commercial, real estate, and estates — all under a single cover, as opposed to seven individually priced books.  Legal Office Procedures affordably covers the entire legal curriculum and renders its students at once employable in any and all of these areas of practice.
Straight forward student-centered language that presumes no prior legal knowledge, to Benjamin Franklin's, "Tell me, I will forget. Teach me, I may remember. Involve me, I will understand."
Step-by-step practice and procedure aptly reinforced by substantive law, case law, and completed precedents.
Principles of legal writing and oral presentation with exclusive examples by Manitoba's Justice John A. Scollin and Ontario's Justice Thomas G. Zuber.
Legal tips to help students reveal important points in practice and procedure, including charts, tables, and screen prints.
Chapter summaries and end-of-chapter review questions.
Precedents completed on legal software:  PCLaw, ACL, DIVORCEmate, Do Process (Conveyancer, Fast Company, Estate-A-Base).
Brief Table of Contents:
Part I: Practice Management

Chapter 1 The Legal Office Environment
Chapter 2 Legal Office Records Management
Chapter 3 Legal Office Dockets and Accounts
Chapter 4 Effective Legal Writing and Oral Presentations
Chapter 5 Legal Office Correspondence
Chapter 6 Legal Research and Memorandums of Law
Part II: Litigation
Chapter 7 The Court System of Canada
Chapter 8 Preparing and Serving Court Documents
Chapter 9 Introduction to Civil Litigation
Chapter 10 Commencing the Civil Litigation Action
Chapter 11 Defending the Civil Litigation Action
Chapter 12 Counterclaims and Third Party Claims
Chapter 13 Discoveries
Chapter 14 Pre-trial
Chapter 15 Trial
Chapter 16 Applications
Chapter 17 Motions
Chapter 18 Disposition without Trial and Enforcement of Orders
Part III: Family Law
Chapter 19 Marriage and Domestic Contracts
Chapter 20 Introduction to Family Law
Chapter 21 Family Law Rules and Procedures
Chapter 22 Commencing a Divorce Case
Chapter 23 Contesting a Divorce
Part IV: Corporate and Commercial Law
Chapter 24 Unincorporated Businesses
Chapter 25 Corporate Law
Chapter 26 Incorporating a Business Corporation
Chapter 27 Organizing the Business Corporation
Chapter 28 Post-Incorporation Matters
Chapter 29 Corporate and Commercial Law
Part V: Real Estate
Chapter 30 Introduction to Real Estate
Chapter 31  Land Registration Systems
Chapter 32 Transfers
Chapter 33 Charges/Mortgages and Remedies
Chapter 34 Discharges and Related Documents
Chapter 35 Sale Transactions
Chapter 36 Purchase Transactions
Chapter 37 Condominiums
Chapter 38 Title Searching – A New Perspective
Part VI: Estates
Chapter 39 Wills and Powers of Attorney
Chapter 40 Inheritance
Chapter 41 Application for Certificate with a Will
Chapter 42 Application for Certificate without a Will
Chapter 43 Distribution of Estates
Glossary
Index to Precedents
Index