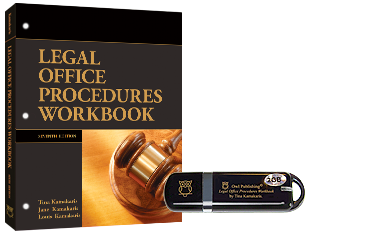 Title: Legal Office Procedures Workbook, 7th Edition, 2017.
ISBN: 978-1-896512-57-0.
Author: Tina Kamakaris, Jane Kamakaris, Louis Kamakaris
For law clerks, paralegals, and legal assistants.
Price: Please contact our distributors:  Emond Publishing, Toronto. Toll free 1-888-837-0815
Description:
This well-known and highly respected  Legal Office Procedures Workbook is designed for Canadian college-level law clerk, paralegal, and legal office programs.  It contains practical assignments that are correlated to each chapter in the Legal Office Procedures textbook and covers an entire legal curriculum.  The student works on easy-to-use start-to-finish legal files, including interfacing files and legal templates, that are pedagogically designed to unfold incrementally, providing the student with legal context and continuity for a meaningful application of substantive and procedural law. The assignments encourage the student to apply initiative, good judgment, critical thinking, and problem solving.
Features include:
USB flash drive uploaded with easy-to-use interfacing templates and assignments.
"Your College Letterhead" template for use at your particular college.
Client files carried from retainer to account.
Press perforated pages for easy removal of hand-in pages.
Brief Table of Contents:
Part I: Practice Management
Chapter 1 The Legal Office Environment
Chapter 2 Legal Office Records Management
Chapter 3 Legal Office Dockets and Accounts
Chapter 4 Effective Legal Writing and Oral Presentations
Chapter 5 Legal Office Correspondence
Chapter 6 Legal Research and Memorandums of Law
Part II: Litigation
Chapter 7 The Court System of Canada
Chapter 8 Preparing and Serving Court Documents
Chapter 9 Introduction to Civil Litigation
Chapter 10 Commencing the Civil Litigation Action
Chapter 11 Defending the Civil Litigation Action
Chapter 12 Counterclaims and Third Party Claims
Chapter 13 Discoveries
Chapter 14 Pre-Trial
Chapter 15 Trial
Chapter 16 Applications
Chapter 17 Motions
Chapter 18 Disposition Without Trial and Enforcement of Orders
Part III: Family Law
Chapter 19 Marriage and Domestic Contracts
Chapter 20 Introduction to Family Law
Chapter 21 Family Law Rules and Procedures
Chapter 22 Commencing a Divorce Case
Chapter 23 Contesting a Divorce
Part IV: Corporate and Commercial Law
Chapter 24 Unincorporated Businesses
Chapter 25 Corporate Law
Chapter 26 Incorporating a Business Corporation
Chapter 27 Organizing the Business Corporation
Chapter 28 Post-Incorporation Matters
Chapter 29 Corporate and Commercial Law
Part V: Real Estate
Chapter 30 Introduction to Real Estate
Chapter 31  Land Registration Systems
Chapter 32 Transfers
Chapter 33 Charges/Mortgages and Remedies
Chapter 34 Discharges and Related Documents
Chapter 35 Sale Transactions
Chapter 36 Purchase Transactions
Chapter 37 Condominiums
Chapter 38 Title Searching — A New Perspective
Part VI: Estates
Chapter 39 Wills and Powers of Attorney
Chapter 40 Inheritance
Chapter 41 Application for Certificate with a Will
Chapter 42 Application for Certificate without a Will
Chapter 43 Distribution of Estates