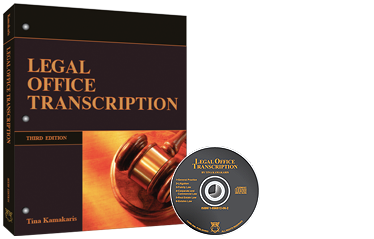 Title: Legal Office Transcription, 3rd Edition, 2011.
ISBN: 978-1-896512-53-2.
Author: Tina Kamakaris, Professor Emeritus, Seneca College, Toronto.
Classification: Audio files for legal assistants, law clerks, and paralegals.
Price: Contact our distributors:  Emond Publishing, Toronto. Toll free 1-888-837-0815
Available: Instructor support, including test bank.
Description:
The Legal Office Transcription by the renowned author, Tina Kamakaris, is completely updated. The Legal Office Transcription is suitable for use in any province in Canada either in conjunction with the Legal Office Procedures textbook by Tina Kamakaris or independently. The Legal Office Transcription consists of an easy-to-use Student Guide and a CD of audio files. The student transcribes interesting legal files that unfold gradually, enticing the student to want to learn more about what happens next in the files. The files are pedagogically designed to develop the student's language skills, legal vocabulary, and transcription skills while simultaneously capturing the legal office in operation. The transcription covers the areas of General Practice, Litigation, Family Law, Corporate and Commercial Law, Real Estate, and Estates. Each of these areas of law begins with preparatory exercises in legal terminology and grammar brush-up.
New and unique features include:
Cameo dictation by two of Canada's most notable justices: Justice John A. Scollin, of the Manitoba Court of Queen's Bench, and Justice Thomas G. Zuber, of the Ontario Superior
Court of Justice.
Legal Terminology Exercises.
Grammar Brush-Up Exercises.
Word processing functions.
New design and easy-to-use softcover format.
Brief Table of Contents:
1. GENERAL PRACTICE
Legal Terminology Exercise
Grammar Brush-Up
A. Subject-Verb Agreement – Refresher
B. Subject-Verb Agreement- Refresher
C. Possessives – Refresher
D. Punctuation – The Comma
E. Punctuation – The Comma
F. Punctuation – the Comma
1.1 Dictation by the Honourable Mr. Justice John A. Scollin
1.2 to 1.15 Letters and Memos
2. LITIGATION
Legal Terminology Exercise 1
Legal Terminology Exercise 2
Legal Terminology Exercise 3
Grammar Brush-Up
A. Verb Tense – Refresher
B. Verb Tense – Refresher
C. Misplaced and Dangling Modifiers – Refresher
D. Possessives – Refresher
E. Possessives – Refresher
F. Punctuation – Semicolon and Colon
2.1 Dictation by the Honourable Mr. Justice Thomas G. Zuber
2.2 to 2.20 Letters and Memos
3. FAMILY LAW
Legal Terminology Exercise 1
Legal Terminology Exercise 2
Grammar Brush-Up
A. Passive Voice – Refresher
B. Misplaced Modifiers and Passive Voice – Refresher
C. Possessives – Refresher
3.1 to 3.7 Separation Agreement and correspondence
4. CORPORATE AND COMMERCIAL LAW
Legal Terminology Exercise 1
Legal Terminology Exercise 2
Legal Terminology Exercise 3
Grammar Brush-Up
A. Sentence Fragments – Refresher
B. Sentence Fragments – Refresher
C. Possessives – Refresher
4.1 to 4.9 Agreements and correspondence
5. REAL ESTATE
Legal Terminology Exercise 1
Legal Terminology Exercise 2
Legal Terminology Exercise 3
Grammar Brush-Up
A. Run-on Sentences and Comma Splices – Refresher
B. Run-on Sentences and Comma Splices – Refresher
5.1 Dictation by the Honourable Mr. Justice Thomas G. Zuber
5.2 to 5.7 Correspondence
6. ESTATES
Legal Terminology Exercise 1
Legal Terminology Exercise 2
Grammar Brush-UP
A. Possessives – Refresher
6.1 to 6.8 Letters, Memos, and Will
6.9 Dictation by the Honourable Mr. Justice John A. Scollin
6.10 Dictation by the Honourable Mr. Justice John A.Scollin